Tom Hazlett, Clemson University
Thomas Hazlett holds the H.H. Macaulay Endowed Chair in Economics at Clemson University, conducting research in the field of Law and Economics and specializing in the Information Economy, including the analysis of markets and regulation in telecommunications, media, and the Internet. Hazlett served as Chief Economist of the Federal Communications Commission, and has held faculty positions at the University of California, Davis, Columbia University, the Wharton School, and George Mason University School of Law. His research has appeared in such academic publications as the Journal of Law & Economics, the Journal of Legal Studies, the Journal of Financial Economics and the Rand Journal of Economics, and he has published articles in the Univ. of Pennsylvania Law Review, the Yale Journal on Regulation, the Columbia Law Review, and the Berkeley Technology Law Journal. He also writes for popular periodicals including the Wall Street Journal, New York Times, Reason, The New Republic, The Economist, Slate, and the Financial Times, where he was a columnist on technology policy issues, 2002-2011. Hazlett also serves as Director of the Information Economy Project at Clemson University. Hazlett has a Ph.D. in Economics from University of California, Los Angeles.
Johannes M. Bauer, Michigan State University
Johannes M. Bauer was appointed as the Quello Chair for Media and Information Policy and the Director of the Quello Center in August 2018. He currently also serves as the Chairperson of the Department of Media and Information. He was trained as an engineer and economist, holding MA and PhD degrees in economics from the Vienna University of Economics and Business Administration, Austria. While at MSU, he also had appointments as a visiting professor at the Delft University of Technology, The Netherlands (2000-2001), the University of Konstanz, Germany (Summer 2010), and most recently the University of Zurich, Switzerland (2012). Much of his research centers on policy issues critical to the Quello Center, such as the design of policy and regulation for advanced media and the Internet, cybersecurity, innovation in the digital economy, and measures to increase digital inclusion. He enjoys working with practitioners from the private, public, and not-for-profit sectors.
John B. Horrigan, Technology Policy Institute
John B. Horrigan is a Senior Fellow at the Technology Policy Institute. Previously, he was a Senior Researcher at Pew Research Center, where he focused on libraries, technology, and communities as well as open data and open government. Prior to rejoining Pew Research Center in 2015, he served as research director for the development of the National Broadband Plan at the Federal Communications Commission. He is a nationally recognized expert on research into barriers to home broadband adoption and use, expertise cultivated as a consultant and in his first stint at Pew Research Center from 2000-2009. He has a PhD in public policy from the University of Texas at Austin and a B.A. in economics and government from the University of Virginia.
Martha Garcia-Murillo, Syracuse University
Dr Garcia-Murillo is a Professor of Political Economy at Syracuse University's School of Information Studies. As an expert in institutional, behavioral and information economics; she focuses her work on the impact of ICTs on access and society. Her research has explored the impact of ICTs on the creation of new business, the informal economy, and corruption.

She has worked for the International Telecommunications Union in Geneva, and often provide training for public officials through the World Bank and the University of Florida PURC Program

Her current research work focuses on the impact of technology on employment with a particular emphasis on the transition towards a more technology dependent society and the policies that will need to set in place to help people displaced by technology to find income alternative.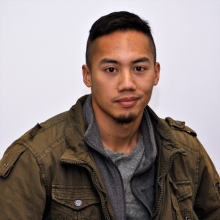 Richard Caneba, Pennsylvania State University
I received my bachelor's in Philosophy with a minor in Computer Science from the University of Michigan in 2009, and was involved in a previous graduate program and then industry as an artificial intelligence researcher, entrepreneur, and software development engineer. I eventually left the tech industry to focus on more humanitarian efforts in technology, where I now progress towards completing my PhD at Penn State University's College of Information Sciences and Technology under the tutelage of Dr. Carleen Maitland. My principle research interest is on the diffusion of information technology in the postcolonial context. This includes development of telecommunications infrastructure to connect communities, how those communities engage with IT, and how these communities are contending with the rapid changes that IT diffusion has brought with it with regards to culture, all within the historical backdrop of coloniality. Following my graduate studies, I will be pursuing a career as a scholar and educator, and hope to have an impact on humanitarian initiatives and broader academic scholarship.
Alain Shema, Syracuse University
Alain Shema is a PhD candidate at the Syracuse University's School of
Information Studies. His research investigates the use of technology in
developing countries. He is particularly interested in using novel data,
such as those generated by the use of mobile phones, to understand the
socioeconomic lives of people in underserved areas. His current projects
explore mechanisms of reducing the high default rates observed in the
micro-lending industry through mobile money. Alain Shema holds an M.S.
in Information Science and Technology from Carnegie Mellon University.
Samuel Agbesi, Aalborg University
Samuel holds Master of Philosophy in Information Technology from Kwame Nkrumah University of Science and Technology, Ghana, and currently a Ph.D. Fellow at the Centre for Communications, Media and Information Technologies (CMI) Aalborg University, Copenhagen, Denmark.

He is a Software Engineer and has worked in the Mobile Telecom industry for sevens (7) years, as Oracle billing and database engineer. His current research focuses on e-government and Blockchain technology.